"...I was quite taken aback by the sounds of the Valley Theory EP
by the underground Canadian rockers Graven. As opposed to
reaching out for the anthemic pop heights of its countrymen and
women, these guys have opted for reinventing and revisiting some
solid '90s Midwestern rock. If not for regular references to
Northern touchstones like Halifax, the Northern Lights, and the
Lodestar, Graven could easily and deservedly be mistaken for yet
another hard-working bar rock band from the American Midwest."
-Adam P. Newton, Dryvetyme Online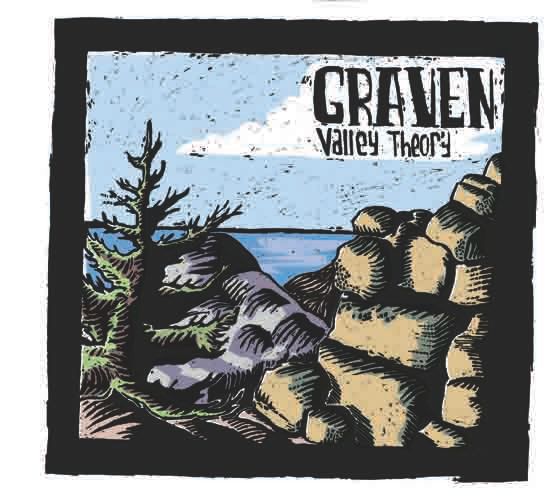 The newest release from Matt McKechnie's brainchild (and manchild)
of Graven. The founding fathers rock hard on this 5 song EP that lets
the listener know that there is more to come. As the entity of Graven
is representative of a journey, 'Valley Theory' gives a layout of the
upcoming landscape for the 5 man electrical mash. With the latest
lineup of his band in tow (including the additions of O no!'s Owen
Edwards, Landon Kotchapaw and old Crushing Shelbyville drummer
Paul Godin switching modes to 2nd lead electric guitar), Matt's voice
never cut deeper through the slate of the Canadian Shield on this tale
of sadness, rejoicing and electrical wizardry.
Track Listing:
1. Northglow
2. I Speak Your Sadness
3. Golden Garage
4. Harsh
5. Country Stars (bonus track)
Get it on iTunes
NOW!
Press for 'Valley Theory' and the Valley Theory tour:
"With roots in east coast Canadian Rock and production from Charles Austin (producer of Joel Plaskett, Matt Mays, Buck 65 and musician/songwriter for The Super Friendz), Matt McKechnie's unique and inter-personal lyrical style lets loose on a bedrock slate of 3 guitars, 1 bass and 1 drummer. Currently based in Ottawa, the five man electrical band of Graven has been dubbed as 'a sure up and comer' by CBC 3 Radio. Be sure to check them out on their summer mini-tour in promotion of their new EP 'Valley Theory'."
-HighFive

Review of Graven's CD Release show in Ottawa, June 3rd
'About a week ago the band, Graven, pulled into town and ripped things up - down in the market. I had to pull my creaky bones out of my soccer-dad lawn chair and see this event in person. Other

Ottawans

and

Iawahians

of all shapes and creeds rambled out of the suburbs to hear "the lads"...I went home later, shaken', cranking the Graven CD over the fields of

Navan

. Cows, chickens and sheep looked up in shock - and oddly enough - pleasure...Graven brought the sound and reforged a community. The revolution has begun.'
-Olsonomics

Myspace: http://myspace.com/gravencanada
EPK: http://sonicbids.com/gravencanada