BIO:
Graven is something built mostly on inconclusive terms... it is a resounding drip in the depths of a dark cave that gives way to water and light. It is a minuscule bird somewhere in the sky-blue backdrop of a massive wilderness portrait. It is a side project amidst the rest of life. Hopefully some shows, some albums, some success here and there, but I'm realizing that the greatest success that can come from music is the sheer enjoyment and the creative outlet of it all. I used to believe that the best part of playing music would be the fame and celebrity status and legions of fans that would come from it and that some big record label would knight me as their prodigy. Those thoughts are gone, and this disheveled fragmented soul is all that's left. Trying to make some sense of it all. Like it - hate it - be who you are because I'm gonna keep making it.
Fresh off a tour of Western Canada with singer/songwriters JD Edwards (Winnipeg, MB) and Trish Jamieson (Whistler, BC), Graven is carefully and cantankerously calculating the next move and evaluating upcoming projects (of which there are many!) - so stay connected.
REVIEWS:
'(Matt's) smooth, evocative voice meshed well with their mellow sound and his ability to mix singing while playing the guitar and harmonica was very impressive...The harmonica riffs were so reminiscent of "The Times They Are A-Changin" that the Tambourine Man himself might as well have been playing along with them.'
-The Queens Journal
'A sure up and comer!'
-CBC Radio 3
'Musically, the band puts the emphasis on a warm, spacious sound. It's slightly fuzzy around the edges but never overdriven and never stretching past a comfortable gallop.'
-Bob Ham, The Voice Of Energy
"...I was quite taken aback by the sounds of the Valley Theory EP by the underground Canadian rockers Graven. As opposed to reaching out for the anthemic pop heights of its countrymen and
women, these guys have opted for reinventing and revisiting some solid '90s Midwestern rock.'


-Adam P. Newton, Dryvetyme Online
'Graven may not set the world on fire, or even usher in a belated jangle-rock revival, but they're good at what they do, and anyone else who pines for Toad The Wet Sprocket should find plenty here to enjoy.
' -iheartmusic.net
LIVE RADIO PERFORMANCES:
CFCR SASKATOON - FRIDAY, NOV 19TH, 2010
CFRC KINGSTON/QUEENS - WEDNESDAY, FEB 9TH, 2011
CAST:
Rehuel Ernest
Owen Edwards
Landon Kotchapaw
Paul Godin
Matt McKechnie
Brendan Lorimer
Ben Gresik
Tyrone Warner
and others...

GRAVEN - SELF-TITLED DEBUT - (1999)
out of print
PILOT LIGHT OUT (2005)
-
iTunes
CHARLES CALLED IT...ANTHEMIC (2007)
-
iTunes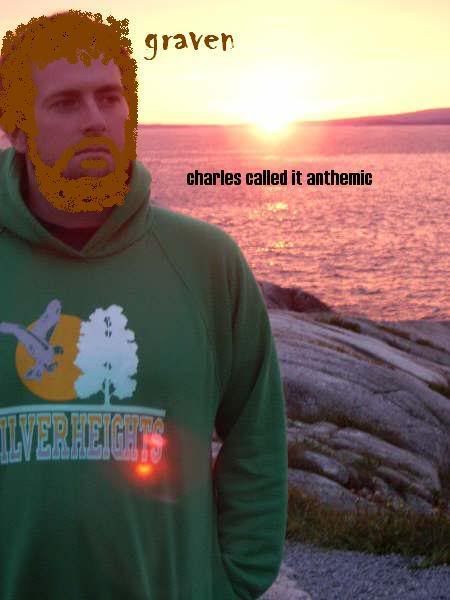 FROM MOUNTAINVIEW TO CANYON HEART (2008)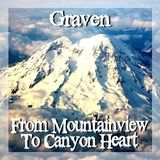 (
click above link for free download - digital only
)
VALLEY THEORY (2009)
WESTERN WAY (2011)
Digital only:
Bandcamp
UPCOMING SHOWS:
03/26/2011 - THE BRANCH w DAVE NORRIS & LOCAL IVAN
(KEMPTVILLE, ON)
03/27/2011 - THE ELMDALE TAVERN w DAVE NORRIS &
LOCAL IVAN (OTTAWA, ON)
11/17/2006 - SCOTT ST. CHURCH (ST. CATHARINES, ON)
01/22/2007 - ZAPHOD'S (OTTAWA, ON)
02/02/2007 - THE RED ROOSTER (BURLINGTON, ON)
04/25/2007 - THE HORSESHOE TAVERN (TORONTO, ON)
11/24/2007 - THE ARTEL (KINGSTON, ON)
09/26/2008 - RENAISSANCE CAFE (TORONTO, ON)
06/03/2009 - ZAPHOD'S (OTTAWA, ON)
06/17/2009 - THE HORSESHOE TAVERN (TORONTO, ON)
06/30/2009 - THE RAINBOW BISTRO (OTTAWA, ON)
07/04/2009 - DUCK'S ROADHOUSE (WESTPORT, ON)
07/16/2009 - THE MANSION (KINGSTON, ON)
11/14/2009 - THE ARTEL (KINGSTON, ON)
12/22/2009 - THE RAINBOW BISTRO (OTTAWA, ON)
03/11/2010 - THE CARLETON (HALIFAX, NS)
03/12/2010 - THE CARLETON (HALIFAX, NS)
03/13/2010 - THE CARLETON (HALIFAX, NS)
03/27/2010 - THE MANSION w (KINGSTON, ON)
04/25/2010 - LOCATION TBD (GUELPH, ON)
05/01/2010 - AVANT GARDE w Texting Mackenzie (OTTAWA, ON)
05/22/2010 - ZAPHODS w Raccoon Wedding (OTTAWA, ON)
05/23/2010 - LE DIVAN ORANGE w Dave Norris (MONTREAL, QC)
06/30/2010 - ZAPHODS w Birthday Cakes (OTTAWA, ON)
07/31/2010 - THE BRANCH (KEMPTVILLE, ON)
08/19/2010 - DONSTOCK (HALIFAX, NS
(THE 'FRIENDS, FEARS & PRAIRIE FIRES TOUR'
WITH JD EDWARDS AND TRISH JAMIESON - more info
at http://friendsfearsfires.blogspot.com)
11/03/2010 - BREEZE BAR w JD (OSOYOOS, BC)
11/04/2010 - CHOPHOUSE w JD/Trish (WHISTLER, BC)
11/05/2010 - MINSTREL CAFE w JD (KELOWNA, BC)
11/06/2010 - HOWE SOUND BREWERY w JD/Trish
(SQUAMISH, BC)
11/07/2010 - CAFE DEUX SOLEILS w JD/Trish
(VANCOUVER, BC)
11/08/2010 - DUNCAN GARAGE w JD (DUNCAN, BC)
11/11/2010 - PEMBERTON HOTEL w JD/Trish
(PEMBERTON, BC)
11/15/2010 - THE CELLAR w JD/Trish
(VANCOUVER, BC)
11/17/2010 - BEATNIQ JAZZ CLUB w JD
(CALGARY, AB)
11/18/2010 - VERN'S w JD/tba (CALGARY, AB)
11/20/2010 - ALL CITIZENS w JD (BRUNO, SK)
11/21/2010 - CAFFE SOLA w JD (SASKATOON, SK)
11/30/2010 - MEET AT 66 w Tanya Davis (COBOURG, ON)
02/08/2011 - CLARK HALL PUB (KINGSTON, ON)